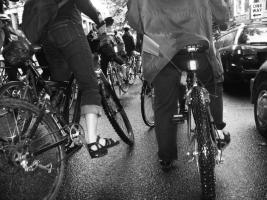 As many of you know, the
Green Futures Charrette
produced a
lot
of visions that prioritized non-motorized transportation, especially bicycle transport (likely looking to European cities like Copenhagen as examples). Very exciting and innovative use of the street right of way was key to those proposals.
Therefore, there are two events this week that we should highlight. First was today's Seattle Weekly
article
about how we still have a looooong way to go to make the city truly bike-friendly.
The second is the first
Critical Mass
ride since the arrest a month ago of two cyclists. Apparently, no felony charges will now be brought against the rider who was originally booked for assaulting an officer under, it sounds from eyewitness reports, dodgy circumstances. 5:30 at Westlake Plaza.